USS TORSK (SS-423)
Battle Flag and Awards
WWII Battle Flag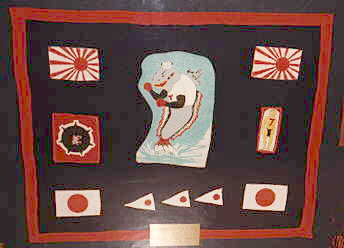 Many of the submarines during WWII made battle flags to display their successful attacks, and Torsk was no exception. This photo shows Torsk's WWII battle flag, which was donated to the museum by Admiral Bafford E. Lewellen (the WWII commanding officer of Torsk), and is on display in the forward torpedo room. The fish in the middle is the Torsk emblem in use at the time. The two Japanese Naval flags in the upper corners represent the two MIKURA class patrol frigates sunk on the last day of the war. The two Japanese Merchant flags in the lower corners indicate the two cargo vessels sunk. In the center left is a symbol for 12 mines that were exploded on the surface by gunfire, and on the center right is a human figure representing 7 Japanese prisoners pulled from the water after their ship was sunk by another submarine. The three small flags across the bottom indicate ships damaged.

Awards

The photo here shows the ribbons painted on the side of Torsk's sail, which represent awards received throughout her 24 year career in the Navy. They are as follows:
Top row, left to right:
PRESIDENTIAL UNIT CITATION: For operations during Lebanon Crisis, 1960.
NAVY UNIT COMMENDATION: For operations during 1962 naval blockade of Cuba.
AMERICAN CAMPAIGN MEDAL: For operations in the Atlantic, off the East Coast, late 1944 and early 1945.
ASIATIC-PACIFIC CAMPAIGN MEDAL: With two battle stars, assault on Okinawa Gunto, 6 May 1945 to 5 June 1945.
Second row, left to right:
WWII VICTORY MEDAL: For service as a combat submarine.
NAVY OCCUPATION SERVICE MEDAL: Asiatic Clasp for operations on 2-3 September 1945, European Clasp for operations from 22 September 1950 to 12 November 1952.
CHINA SERVICE MEDAL: For operations off Formosa, September 1945.
NATIONAL DEFENSE SERVICE MEDAL: 22 April 1953
Torsk also recieved the NAVY E, for effectiveness as target in training anti-submarine warfare craft and aircraft off the Atlantic Coast, 1 July 1955 to 1 August 1957.