Construction and Commissioning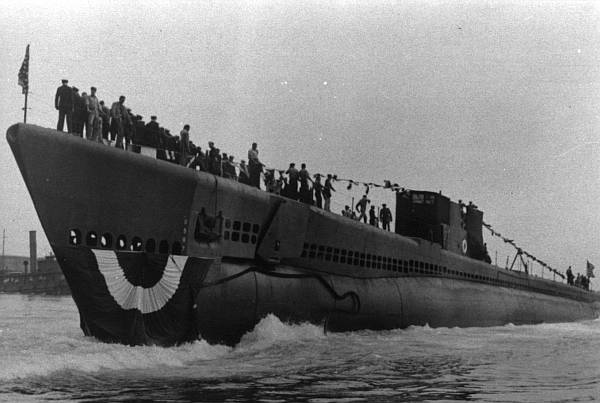 Torsk's launch on September 6, 1944
USS Torsk (SS-423) was built at Portsmouth Naval Shipyard in Kittery, Maine.
Her keel was laid on 7 June 1944, and she was launched on 6 September 1944, sponsored by Mrs. Allen B. Reed.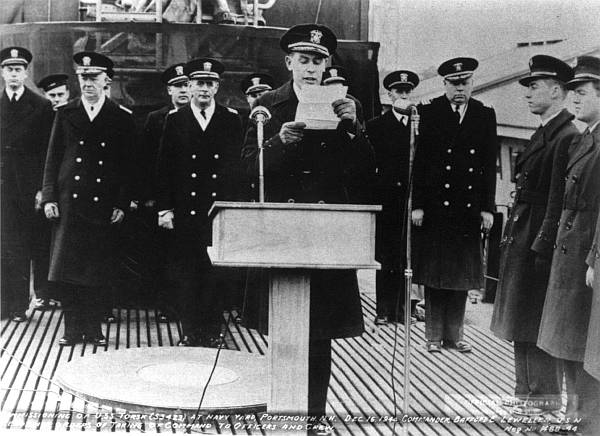 Commander Bafford E Lewellen reading his orders at Torsk's commissioning on December 16, 1944
Torsk was placed in commission on 16 December 1944 with Commander Bafford E. Lewellen, USN, as her first commanding officer.

Torsk underway off the East Coast of the United States on 12 February 1945 as she heads towards the war zone.
On 31 December 1944 Torsk put to sea for the first time.

After training off the East Coast, she sailed
to Fort Lauderdale, Florida.

Next she proceeded to the Panama Canal and from there to Pearl Harbor,
Hawaii where she arrived on 23 March 1945.