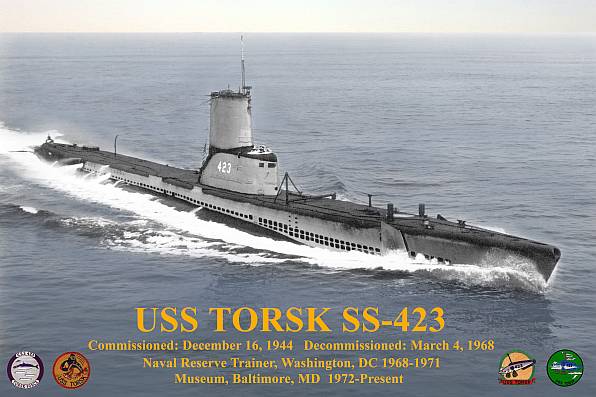 Welcome to the USS Torsk SS-423 History Page
For many years it was customary to name U.S. submarines for fish, although this custom no longer exists.
World War II submarines were named for everything that swam, from
Albacore
to
Whale
.
Torsk
got her
name from a gadoid fish, similar to the codfish, which is found in the North Atlantic.
The name
Torsk
is Norwegian in origin.
Click the links to the left to read more about Torsk during her 24 years of active duty with the US Navy,
her continuing service as a Naval Reserve Trainer in Washington, DC for three years and finally
as a museum and memorial to the Silent Service in Baltimore, MD.
NOTE - quite a few inquiries have been made lately asking if former President Jimmy Carter
ever served aboard Torsk during his career in the submarine service. One version of the rumor
even states that he was the last Commanding Officer of Torsk! While it is possible that President
Carter was aboard during his training days at the submarine school in New London, Connecticut
during the 1950's, he was never officially assigned to Torsk nor was he ever her Commanding Officer.
Click the link at left for Jimmy Carter's service record.