Volunteer Program<![if !supportEmptyParas]>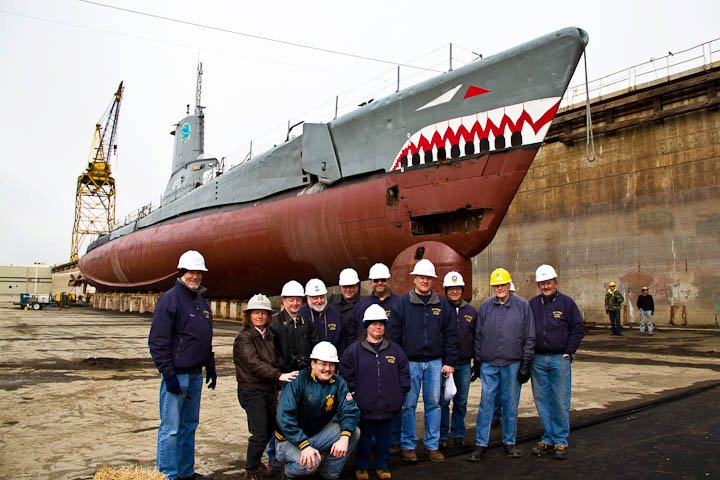 <![endif]>
TVA group photo taken in dry dock, February 26, 2011 by Ellie Bjerkaas
Torsk has a very active volunteer group. We have several regular volunteers, who can usually be found aboard just about every weekend. We also have Torsk Work Weekends where volunteers come in from all over the country to work aboard. These are held in the fall. See the links below for pictures.
If you are interested in becoming a Torsk volunteer, contact us at volunteer@usstorsk.org for more information. We have many projects currently in progress aboard including general cleaning, chipping and painting, and equipment restoration. We also have an active radio club aboard that works out of Torsk's original radio room. You can work as little or as much as you like – it's up to you!!
<![if !supportEmptyParas]> *****
COMING EVENTS
Our next Work Weekend is tentatively scheduled for October 2012.
For info on these events contact Bruce Broseker at babroseker@usstorsk.org
*****
Work Weekend Pictures
Torsk Work Weekend XII - October 2005
Torsk Work Weekend XIII - October 2006
Torsk Work Weekend XIV - October 2007
Torsk Work Weekend XV - October 2008
Torsk Work Weekend XVI - October 2009
Torsk Work Weekend XVII - October 2010
Torsk Work Weekend XVIII - October 2011
Torsk Work Weekend XIX - October 2012
*****
Special Weekend Events & Ceremonies
MK-45 Torpedo Load - November, 2005
Memorial Day Ceremonies - May 2008
Memorial Day Ceremonies - May 2009
Naval Academy Midshipmen Work Party - March 2010
MK-14 Torpedo Load - 13 September 2010
*****
Strip Ship Pictures
*****
Road Trips & Weekend Visitors
Visit to New London for Holland Club Ceremony and a tour of the
Sub Force Museum and USS Nautilus SSN-571 - November 2004
*****
Reference Material
*****
*****
<![if !vml]><![endif]>

<![if !supportLineBreakNewLine]>
<![endif]>