Cool Bob
Mini Work Weekend
January 21-23, 2000
---
This work weekend was held in honor of Cool Bob Berry, who has been sober for 5 months and counting. No alcohol was allowed, and we still managed to have a great time! It was fun to meet new members of our Volunteers, as well as see all our old friends. Main Engine #2 was examined, and the support systems were traced and tagged. Work was begun on resleeving the After Battery Hatch with a new stainless steel insert, and a ladder was installed into the forward battery well from the passageway hatch. Sonar painting continued, and we enjoyed a visit from an ORION crewmember. Ceremonies were held on Saturday and Sunday, and Susan Carl from the Naval Media Center in Washington attended both days, interviewing Volunteers and taking photographs.
Special thanks goes to Bruce and Leslie, who organized and hosted the event.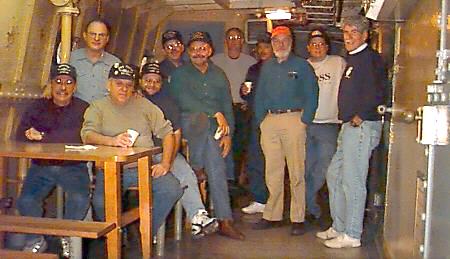 Some of the gang on Sunday Morning after breakfast.
(L-R): Joe Roche, Guns Mendelson, Ray Samson, Gil Bohannon, Larry Derouin, Cool Bob Berry, Rod Mann, Frank Morgan, Roger "Ramjet" Burleigh, Bruce Broseker, and John Wynn.
Not pictured: Leslie Broseker, Matt Harris, Bradd Gaskill, Mike Eacho, Ron Rubin, Susan Carl
Read on for Pix!!