Ceremony aboard USS TORSK
for Russian Submarine
KURSK
26 August 2000
A memorial ceremony to remember the submariners lost aboard the Russian Submarine KURSK was held aboard Torsk. The Russian Naval Attache' from Wasington attended, as well as over 100 other people both on Torsk and on the pier. The ceremony was planned and coordinated by Richard "Guns" Mendelson, Capital Base USSVI Chaplain/Rabbi and Torsk Chief of the Boat.
Kursk was lost on 12 August 2000 after an explosion tore apart the forward part of the boat during Russian Naval exercises in the Barents Sea. The entire crew of 118 were lost.
The Russian Naval Attache', Captain Vasily Doroshenko, salutes as he is piped aboard by Don Rubin.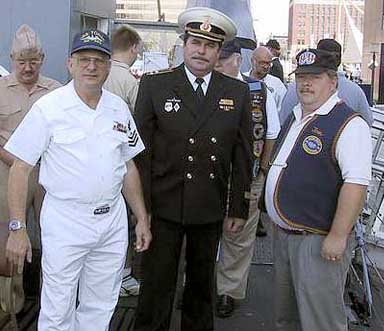 Guns, Captain Doroshenko, and Tom Denton before the ceremony.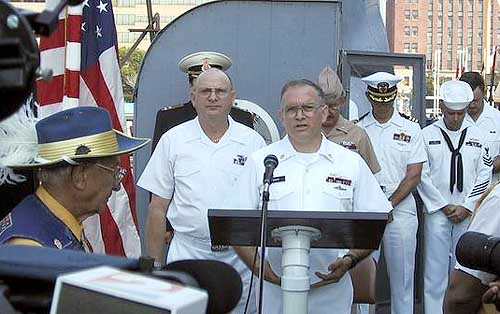 Mike Eacho has the opening prayer.