USS Torsk (SS-423)
Midshipmen Work Party
February 6, 1999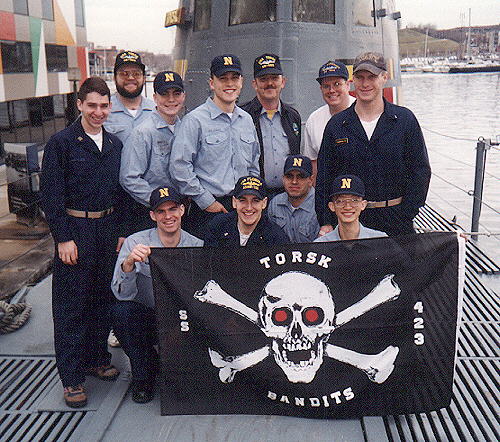 Standing, L to R:
1/C Michael Doniger, Gil Bohannon, 4/C John Esposito,
4/C Erik Kenny, Larry Derouin, Bruce Broseker, 2/C Scott Thompson
Kneeling, L to R:
2/C Lael Matthews, 2/C Stephen Williams, 3/C John DeSantis,
4/C Chul Choi
On February 6, 1999 the first Naval Academy Midshipmen Work Party took place aboard USS Torsk. The Mids are all members of the Dolphin Club at the Academy. They took on several projects aboard, including cleaning in the after three compartments, moving spare parts from places that are inaccessible to the regular volunteers, cleanup of the #1 periscope well, and light bulb replacement. They performed these duties with enthusiasm, earning a "Well Done" from the Torsk Volunteers.
Follow the links below to see pictures from the work party!
---