USS Torsk (SS-423)
Work Weekend II
October 1998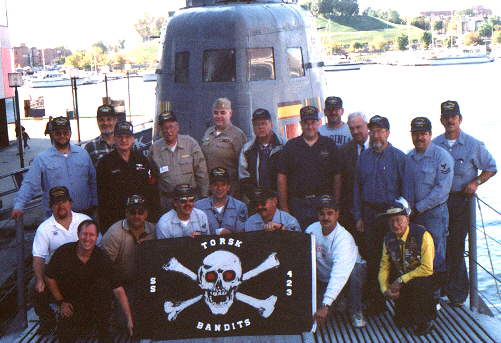 The October 1998 Work Weekend Crew. Many of the crew are missing from this picture as they had to leave early on Sunday. Crew shown are:

Front Row (L to R, kneeling): Tom Denton, Pete Stafford, John Kill, Skibo, Carl Farina, Cool Bob Berry, Gil "Stewburner" Cabral, Joe Tuma.

Back Row (L to R, standing): Gilbert Bohannon, Mel Myers, Dick Mendelson, Bob Pleau, Ray Stone, Mr. Kraft, Dan Dreisbach, Harry "mOOse" Moore, Medford Canby, Tom Clymer, John Cole, Larry "Doc" Derouin.
NOT PICTURED:Pam Overmann, Mike Wheeler, Jim Adams, Jack Brown, Bill McGlinn, Alan Courtney, Mike Derouin, Mark Bell, Joe Roche, Ramon Samson, Jim Mandelblatt, Bruce Broseker, and Tom Miller.
If I forgot anyone, please let me know!
To see more pics of the work weekend, click on any of the links below.
---