Torsk Work Weekend IV
October 15-17, 1999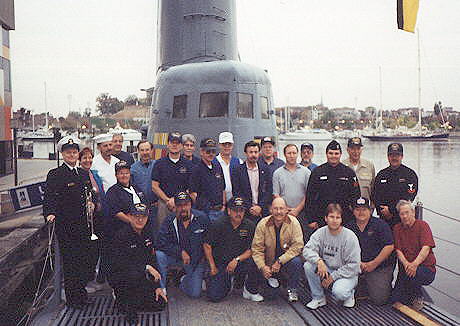 A group shot of the Volunteers taken Sunday morning after the Tolling of the Bell ceremony.
This work weekend was very successful. Projects worked on include:
1. Additional deck laid aft.
2. New flagstaff welded down aft.
3. Electrical work below.
4. New paint job (going for MS32!!).
5. MK19 Master Gyro installed.
6. Work bench built in AB well.
7. Sonar shack cleaned and painted.
8. Examination and testing of Ships Service 225 air system (at 100psi).
9. Main Engine #2 (Susan) rolled on air a total of approximately two FULL rotations or more using the 100 psi air from SS225 system (rolled approx 1/4 to 1/2 turn per use of air). IT ROLLED OVER!!!!!!!!!!!!!!!!!!!!!!!!!
10 - Forward escape trunk cleaned, scraped, and painted.
11 - Tolling of the bell ceremony.
12 - hOOTers trip!
13 - Consumed lots of beer!
14 - Ate Krispy Kreme Donuts!
15 - Ate sausages!
16- Visit from Josephine.
AND MUCH MUCH MORE!!
For pictures of our activities, click on the links below.

ENJOY!
Sunday - Tolling of the Bell Ceremony.
That covers it for this work weekend!! Hope to see you at the next!