Torsk Work Weekend 10
May 2-3-4, 2003
Torsk Work Weekend 10 was very successful, with 60 volunteers from all over the country in Baltimore to spend the weekend working on Torsk. Our primary focus was cleaning, with additional work on periscopes, forward deck, and interior communications. See the list below for details of work accomplished.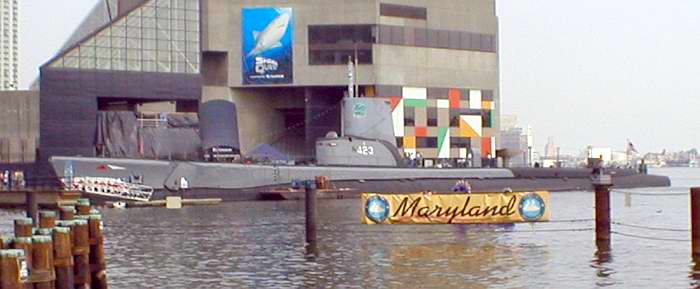 Click HERE to see the pix from the weekend.
VOLUNTEERS ATTENDING
Bruce & Leslie Broseker, Gilbert Bohannon, Dave Thames, Mike Eacho, Frank Morgan, Larry "TorskDoc" Derouin, Bill Derouin, Richard "Guns" Mendelson, George Vest, Tom McNulty, Tracey Hamilton, John "JDawg" Cadell, Bill "Billy Bob"/"Launcher" Lary, Richard "Doc" Beeghly, Dave & Terry Stoops, Milt & Alex Smith, Ric Hedman, John Wynn, Chuck Emerson, Jennifer Emerson, Jackie Donaldson, Nick Yokanovich, Neil Bellenger, Art Mary, Matt Harris, Al Becker, John Biesecker, Tim Calvert, Elia Kosnoski (+2), Margie Kosnoski, Roger Warden, Scott ?, Len Glendening, Jack Glendening, George Hoagland, Bill Baxter, Ed Winner, Fred Polgardy, John "Steamboat" Fulton, Roy Ator, Jim Adams, Tracey Johnstone, Cathy Steiner, Al Freund, Bob Gawe, Jim "Stash" Payton, Ian Slepian, Michael Slepian, Ken Hottenstein, Kenny Hottenstein, Paul Kidd, Charlie Sutton, Don Morton, Gary Steinhaus, Ron Exell
WORK ACCOMPLISHED
The following is a list of work accomplished during the weekend:
-Passive Sonar System Installed In Sonar
-Control Wash Down
-Chipping & Debris Cleaning In Forward Superstructure
-Thorough Cleaning ATR
-Thorough Cleaning Maneuvering
-Thorough Cleaning Forward Motor Room
-Thorough Cleaning AER Lower Flats
-Thorough Cleaning FER Lower Flats
-Thorough Cleaning FTR
-Installed Lower Torpedo Skid Runners In ATR
-Re-Installed Battery In MK27 Torpedo
-Replaced Galley Sink Faucet
-Coffee Pot Work
-Repaired/Exercised Snorkel Valves In Galley
-Maintenanced WTD Operating Mechanisms
-Growler & SP Phone Work Throughout The Boat
-27MC Repaired & Restored To Operation
-Loaded Aboard James River Strip Ship Parts
-Loaded Aboard Plex Cover For IC Switchboard
-Repainted Several Light Reflectors
-New Hot Water Lines Insulated
-Escape Trunk Repainted
-Removed Mounting Points For Reservist Shore Power Boxes For Aft End Of Sail
-Periscope Work
-Relamped/Repaired Running Lights
-Brass Cleaning In Control
-Sanitary Tank Pump-Out
-All Safes Opened And Combinations Reset
-Relamped Light Fixtures Throughout The Boat
-Teak Removed By General Ship Stowed In Superstructure
-Fresh-Water Tanks Filled
-URC-32 Radio Restoration Work
-Replaced Missing Light Bulbs In Christmas Tree
-Relamped Sonar Consoles
-Trash Removal From Aft Superstructure
-Replaced Missing Light Globes In Lower Spaces
-Powered Up Fathometer
-Removed Inoperative/Non-Original 120v Outlet From Portside Of Sail
-Installed Inspection Port Covers In Ventilation Lines
-Restored 120v AC Power to Bus FB-123
-Removed Amber Submarine Light From Top Of Sail For Repair
-Reconnected Jackstaff Light & Returned To Operation
-Air Banks Topped-Off
-Continued Paint Removal From Air Manifold Copper Piping & Tubing
As you know the primary focus of this Work Weekend was a thorough Field-Day throughout the boat. We decided to try and motivate more people to get involved in the cleaning. Our original idea was to provide gift cards from a local bar/eatery as prizes to the individual or team for the most improved upper compartment, and most improved lower space (i.e. Motor Room, After Engine Room Lower Flats, Forward Engine Room Lower Flats) to be awarded at the cookout Saturday evening (so they could be used out Saturday night). Unfortunately, the eatery we had in mind doesn't provide gift cards this time of year, so we went with the cash amounts that the cards would have been ($75 lower space, $50 upper space). Everyone who worked on the Field-Day really put a lot of effort into the areas that they were working on and it shows throughout the boat. In the end the winners were, Forward Engine Room Lower Flats for most improved lower space, and Maneuvering for most improved upper compartment. The Forward Engine Room team consisted of George Vest, Stash Payton, Jim Adams, & Tom McNulty, and the Maneuvering team consisted of Neil Bellenger, and Ed Winner. The Forward Engine Room team returned the $75 prize asking that it go into the TVA fund, and the Maneuvering team asked that we take their $50 prize and make a donation from TVA to the Frederickson Fund to support the family of the Chief who lost his life in the Rhode Island nightclub fire.
A big THANK YOU to all who participated and made this Work Weekend such a success!!
Return to the Work Weekend Pix Index